Paranormal Romance is filled with Alpha men, yesterday I was reading a book and it occurred to me, everyone loves Alphas. Women reading often love to be swept off their feet by a big muscly guy who beats everyone up for them. It's usually werewolves as they blame it on their 'primal urges' or maybe vampires, but is it good for society?
Do you really want your daughter reading about a man who gets jealous every other page, are books suggesting that bullying in a relationship is okay?
Personally I think not, but it certainly depends on what paranormal book you read. On the one hand it can be romantic for an alpha to get slightly jealous. But on the other hand, some authors take possessiveness a tad too far.
It's hard for an author to get the right balance though, because what's too alpha? There comes a point where the alpha is just becoming a bit abusive and makes you uncomfortable.  Think to yourself, would you like it if you're boyfriend/husband acted this way? I don't think I'd appreciate my boyfriend taking the engine out my car because he didn't want me going somewhere- I'm looking at you Edward Cullen.
I personally, like to see a bit of past, maybe a snippet of what the alpha's been through and why he's like this. It makes him more believable as a character and I'm more comfortable reading it. Also, I like to read humour with it, it gives the possessiveness a lighter edge, and creates a nicer relationship, meaning you can't help but root for the guy.
In paranormal Romance, the alpha is getting bigger. However is it better now the heroine is usually some form of badass? This could mean she has no qualms about telling the alpha where to shove it. I love these books, I think if you look at it in this perspective; the alpha character can actually suggest it's not okay to put up with the alpha because the heroine never does.

Here are some books with alphas I love-



To begin with, the alpha acts a bit questionable, but when it comes to alphas, this is one you want to read. Slowly through the series, you find out about his past and start loving him.
Blurb:
MacKayla Lane's life is good. She has great friends, a decent job, and a car that breaks down only every other week or so. In other words, she's your perfectly ordinary twenty-first-century woman. Or so she thinks…until something extraordinary happens.
When her sister is murdered, leaving a single clue to her death–a cryptic message on Mac's cell phone–Mac journeys to Ireland in search of answers. The quest to find her sister's killer draws her into a shadowy realm where nothing is as it seems, where good and evil wear the same treacherously seductive mask. She is soon faced with an even greater challenge: staying alive long enough to learn how to handle a power she had no idea she possessed–a gift that allows her to see beyond the world of man, into the dangerous realm of the Fae….
As Mac delves deeper into the mystery of her sister's death, her every move is shadowed by the dark, mysterious Jericho, a man with no past and only mockery for a future. As she begins to close in on the truth, the ruthless Vlane–an alpha Fae who makes sex an addiction for human women–closes in on her. And as the boundary between worlds begins to crumble, Mac's true mission becomes clear: find the elusive Sinsar Dubh before someone else claims the all-powerful Dark Book–because whoever gets to it first holds nothing less than complete control of the very fabric of both worlds in their hands….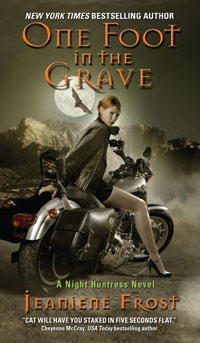 If you're a fan of Spike, you will love Bones, he is a more sedated alpha (if there is such a thing) But he isn't controlling and he's sexy as hell.
Blurb:



You can run from the grave, but you can't hide…
Half-vampire Cat Crawfield is now Special Agent Cat Crawfield, working for the government to rid the world of the rogue undead. She's still using everything Bones, her sexy and dangerous ex, taught her, but when Cat is targeted for assassination, the only man who can help her is the vampire she left behind.
Being around Bones awakens all her emotions, from the adrenaline rush of slaying vamps side by side to the reckless passion that consumed them. But a price on her head – wanted: dead or half-alive – means her survival depends on teaming up with Bones. And no matter how hard Cat tries to keep things professional between them, she'll find that desire lasts forever … and Bones won't let her get away again.


Curren is definitely an alpha, the humour is mixed with (good) possessiveness and tales of an urban fantasy world that is brilliant throughout the series.
Blurb:
Atlanta would be a nice place to live if it weren't for the magic….  When the magic is up, rogue mages cast their spells and monsters appear, while guns refuse to fire and cars fail to start.  But then technology returns, and the magic recedes as unpredictably as it arose, leaving all kinds of paranormal problems in its wake.
Kate Daniels is a down-on-her-luck mercenary who makes her living cleaning up these magical problems.  But when Kate's guardian is murdered, her quest for justice draws her into a power struggle between two strong factions within Atlanta's magic circles.
The Masters of the Dead, necromancers who can control vampires, and the Pack, a paramilitary clan of shapechangers, blame each other for the bizarre killings – and the death of Kate's guardian may be part of the same mystery.  Pressured by both sides to find the killer, Kate realises she's way out of her league – but she wouldn't have it any other way.



In these books, Adam is actually an alpha of a pack, he's hot and he has a protectiveness for Mercy that becomes warranted as the series goes on.
Blurb:
Mercy (short for Mercedes) Thompson is a mechanic, who earns a good living fixing German make cars in her garage in the Tri-Cites.  She lives in a world where the lesser fae have been 'outed' and now live in government reservations, werewolves and vampires exist but have managed to keep their existence secret, along with a few other strange creatures that are still firmly in the closet.
Whilst she is working in her garage a young drifter turns up looking for casual work and feeling sorry for him, Mercy gives him a job.  She can tell he is in some sort of trouble and apart from everything else she can tell that he is also a werewolf.
Mercy knows a lot about werewolves, she was raised by a werewolf family, her first love was a werewolf and her current next door neighbour is a werewolf.  Yes, Mercy certainly knows werewolves!  She isn't a werewolf herself, though she was born a 'walker', a Native American supernatural shape shifter who can change into a coyote at will.
Determined to help her new friend she introduces him to her next door neighbour Adam, who is also the alpha of the local werewolf pack.  From there events soon spiral out of control with Mercy caught in the middle.  She is soon forced to return to her childhood home and seek the assistance of the Marrok, leader of all the werewolf packs of America.  It is soon apparent that there is a plot against the Marrok but without much of an idea who is behind it Mercy turns to the vampires for help….